lives as story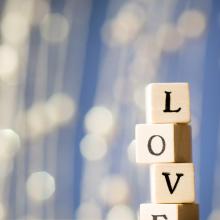 I came across a pottery booth at an arts fair a couple weekends ago. One of the engravings on the wall reminded us that "Everyday a new story begins."
Isn't that true?
Our lives are a story written day by day, paragraph by paragraph, chapter by chapter, choice by choice. Each day is a blank page awaiting our entry.
A new plot twist. A new character. A few lines about grief. A paragraph about hope. An illustration of love.
How will we fill the page?
We get to decide our story, though not entirely by ourselves. Each of us has a co-author, someone collaborating with us.
We didn't write the first sentence to our story, the one that involves our birth. The co-author wrote that for us. All of our stories start with the same opening and the same word.
Love. Period.