Linda LaScola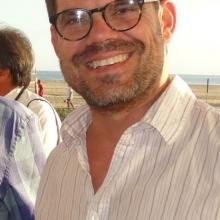 California pastor Ryan Bell has a novel New Year's resolution. For one year, he proclaimed, he will "live without God."
It's an odd resolution for an ordained minister, former church pastor, teacher at two highly regarded Christian universities, and church consultant. Yet for the next 12 months, Bell, 42, plans to refrain from praying, reading the Bible, and thinking about God at all.
Instead, he will read atheist authors, attend atheist gatherings, and seek out conversation and companionship with unbelievers. He wants to "do whatever I can to enter the world of atheism and live, for a year, as an atheist."
Still, his resolution is only an experiment — he is not, he said, an atheist. "At least not yet," he wrote in an essay for The Huffington Post, where, on New Year's Eve, he announced his plan and a new blog to document it.