Let freedom ring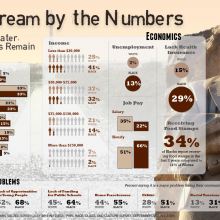 Yesterday's "Let Freedom Ring" ceremony in Washington, D.C., honored the nation's substantial advances in racial equality in the fifty years since Dr. Martin Luther King, Jr. delivered his now-iconic "I Have a Dream" speech.
But events this year — from the Supreme Court gutting the Voting Rights Act to the House eliminating funding for food stamps to the Trayvon Martin trial — are posing serious challenges to our national progress towards true equality for all.
An infographic from the Public Religion Research Institute, "The Dream by the Numbers," highlights systemic inequalities that still work against communities of color today. The statistics are grim: black communities are unemployed at nearly double the rate of white communities. Fewer than 20 percent of black youth will receive a college or graduate degree. Twice as many blacks lack health insurance as whites. And nearly 70 percent of blacks surveyed mentioned "lack of opportunities for young people" as a top concern for their community.
The King Center is urging communities around the world to participate in a bell-ringing ceremony next month to help commemorate the 50th anniversary of Martin Luther King, Jr.'s, "I Have a Dream" speech.
King Center officials say they have reached out to all 50 governors and to cities across the globe asking them to participate in the bell ringing at 3 p.m. ET on Aug. 28, or at 3 p.m. in their respective time zones.
"My father concluded his great speech with a call to 'let freedom ring,' and that is a challenge we will meet with a magnificent display of brotherhood and sisterhood in symbolic bell-ringing at places of worship, schools and other venues where bells are available from coast to coast and from continent to continent," said Bernice King, King's daughter and CEO of the King Center.