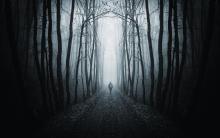 Fear is in the air.
Ebola. War. Conflict. Economic turmoil. Political victories. Political losses. This is the stuff of the nightly news. And everywhere we look we have a new villain to worry about, a new threat against which we ought to brace, a new sense of hopelessness.
This is nothing new, of course. The world has always been a scary place. If anything, we have become inured to the greatest threats we might face. With roofs over our heads and weather forecasters to warn us of impending storms and economic structures to cushion us from financial catastrophe, we keep many dangers at bay.
And yet in the midst of so much safety and comfort, we seem to search compulsively for something to fear, something to raise our ire, something that will keep us up at night. It is not enough to feel safe apparently; for some reason, fear is too tempting.
Anytime these world disasters emerge — whether disease or storm or war or financial crash — some Christian or another will step to the microphone to declare the end of days. Things have never been this bad before. The global crisis is unprecedented. This can only mean the dawn of the end as we know it.
Then again, the same could have been said in the days when the plague was ravaging Western Europe. The same could have been said by the victims of Western expansion in the Americas. The same could have been said by our grandmothers and grandfathers as the economic system crumbled before their eyes in the Great Depression. The same could have been said by a Jew facing the Holocaust. The same could have been said by the Nigerian girls who were stolen for the sake of a deluded ideology.
Disasters are not new. Recent disasters do not erase old ones. And old ones do not discount new ones.