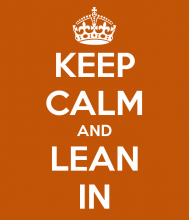 Then there's the more recent pragmatic argument: you should want gender parity because of how it will help your own family, business, or city. In short, inequality and violence harms the women who are your partners and friends. Some suggest that it's mighty convenient that men are ready to take a stand when we finally see how it benefits us. But one female friend advised me that men should ease up on themselves: "Just deliver gender parity, and we'll gladly forget HOW exactly you got there. Deal?"
According to the Global Gender Gap Report released at the latest World Economic Forum, it will take 80 years to reach gender parity in pay, status, governance, etc. In the year 2095, my daughters would be approaching 100 years old, and my mother, wife, two sisters, aunts and so forth would be long dead along with me and all the women that I care about today. Why wait 80 more years? It's time for all men to lean in and help cut that number in half (and then some).
I've joked before that having two older sisters is what every boy needs to make the world spin around more equitably. If not biological sisters, then let's find older sisters for every boy. Hopefully with gender parity cut down to 20 years from 80, my 7-year-old son will need to work twice as hard to "get ahead," since he'll finally be competing fairly with the other half of the sky. May it be so.