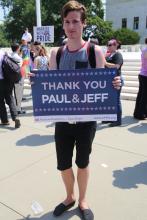 Sometimes a court opinion is more than just a court opinion.
Justice Anthony Kennedy's 26-page decision Wednesday striking down a federal ban on same-sex marriages offers a window into Americans' rapidly shifting views of same-sex relationships — a shift that increasingly relies on matters of law and fairness, not moral or religious views.
At the same time, Justice Antonin Scalia's biting 26-page dissent in United States v. Windsor reflects a set of cultural, religious, and social arguments that are losing ground in the court of public opinion and now, in the highest court of the land.