latino culture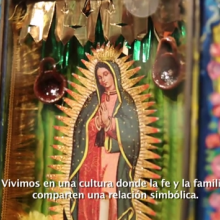 As a boy growing up, Joanna Maria Cifredo wasn't like her brothers.
"My brothers looked at females because they wanted to be with a female," Cifrado says, in new video resource by the Human Rights Campaign that premiered Oct. 1. "I looked at females more like, 'Oh, I wish I was her.' "
Now, Joanna has decided to physically identify as a woman full time.
Her voice joined many others in Before God: We are All Family, a new film focused on the experiences of Latina LGBT people. She also participated, along with her mother Maria Vega-Cifredo, in a discussion panel that included the filmmaker at the first public viewing of the resource at the GALA Hispanic Theater in Washington, D.C.
Focusing on the important role family and faith play in Latino communities, the video resource is the newest component to a bilingual discussion guide produced by the HRC and the National Latina/o LGBT Human Rights Organization, among others. The organizations developed the guide with the aim of helping Latinos have a conversation about faith and LGBT inclusion.
The guide, written by Rev. Dr. Miguel A. de la Torre, with help from Rev. Dr. Ignacio Castuera and Lisbeth Melendéz Rivera, gathers 14 testimonies into six chapters, each with stories, questions, and exercises focused on what it means to be LGBT and Latina. Inside the guide, created in 2011, are sections on family, the gift of our bodies, the Bible, and solidarity.