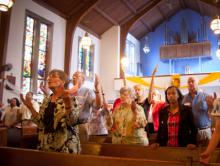 Nothing upsets the folks in the pews as much as changing the liturgy that they're accustomed to, and that seemed likely to be the case when the Vatican ordered revisions to the familiar prayers and rubrics of the Catholic Mass.
But now, more than a year after the changes took effect in U.S. parishes, a survey of American priests shows that they are more disturbed by the innovations than their flocks.
In fact, the poll, conducted by researchers at St. John's University School of Theology-Seminary in Collegeville, Minn., showed that almost 60 percent of priests surveyed did not like the new Roman Missal, as the liturgical book for the Mass is known, while about 40 percent approve.