lambeth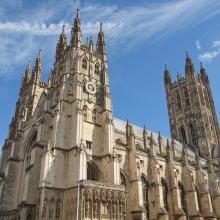 In a lengthy interview in The Times of London, Archbishop of Canterbury Justin Welby predicted that the Anglican Communion might not hold together because of strong disagreements on the ordination of women as bishops and full rights for LGBT people.
The candid interview came at the end of Welby's visits to the 38 provinces (or country-states) that make up the Anglican Communion.
Welby said that although individual churches remain "strong, resilient and thriving," the differences among them remain profound.
"I think, realistically, we've got to say that despite all efforts there is a possibility that we will not hold together, or not hold together for a while," he said. "I could see circumstances in which there could be people moving apart and then coming back together, depending on what else happens."
Rod Thomas, chairman of Reform, an evangelical network of English and Irish Anglicans opposed to women bishops and LGBT ordination or unions, agreed with the archbishop's assessment.
"If, as an Anglican, you believe more or less the same things but you just can't reach agreement on something that is terribly divisive, you do go your separate ways. That will mean that the heads of various Anglican churches around the world won't be able to meet together and say 'Look, we're all united' in the same way they did in the past."
The best lack all conviction, while the worst
Are full of passionate intensity.
--William Butler Yeats, from "The Second Coming"