Lake Elsinore
A California resort town, already reeling from a legal fight over the placement of memorial crosses at a minor league baseball stadium, is now engaged in another round of bitter acrimony over the display of crosses on public land.
On Thursday, AnnMarie and Chad Devaney reluctantly removed a roadside memorial cross in
Lake Elsinore, Calif.
, near the site where their 19-year-old son Anthony was struck and killed by a car in May 2012.
Not long after, another family appeared at the scene to erect six smaller wooden crosses at the same site. Each bore a handwritten message, including "What if this was your child?", "To each his own," and "Get a life."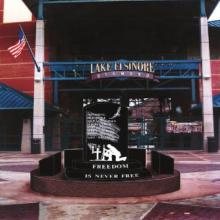 A California federal judge has rejected a proposed religious memorial at a publicly owned baseball stadium as a violation of both federal and state laws.
On Thursday, U.S. District Judge Stephen V. Wilson of California's Central District ruled that a granite monument depicting a soldier kneeling in prayer before a cross lacked "a secular purpose" and has "the unconstitutional effect" of endorsing religion over nonreligion.
The decision came nine months after a lawsuit was filed by the American Humanist Association, a national organization of nonbelievers. The memorial was planned for city property in Lake Elsinore, Calif., a community of about 53,000 people in Southern California's Riverside County.