labour party
May grew up in southeast England, the daughter of a Church of England vicar at a time when much of the nation was, by default, Anglican. In the 1950s and '60s, the majority of people were married, baptized, and had their funerals in the Church of England, the established church. It was also a time when, despite the nation's Christianity, few spoke about their faith, or about that of politicians.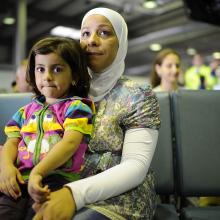 I have been literally disgusted at how "politics" has dominated the media's response and coverage of the Syria crisis. Millions of lives are at stake, as is the security of one of the most critical regions of the world. But all many of our media pundits can talk about is how this affects politics — i.e., how this could weaken President Obama's second term or what this might mean for Obamacare.
I heard the same media blathering when I was in London last week when the Syria chemical weapons crisis broke through. "Does the vote in Parliament hurt the Prime Minister and help his opposition?" "Is the Labor Party now up, and the Tory down?"
Who cares?!