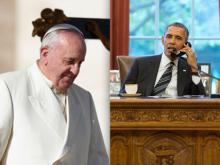 President Obama is to meet Pope Francis for the first time next week as Obama wraps up a European tour, a high-profile encounter between two major world leaders that appears to carry especially high stakes from the U.S. perspective.
The White House and the American bishops have been at loggerheads for years on a range of culture war issues, and on Tuesday, just two days before the Vatican meeting, the U.S. Supreme Court will hear oral arguments on the contraception mandate that has sparked fierce opposition from the U.S. hierarchy.
But American and Vatican officials say the talks may disappoint those hoping for fireworks, and that the summit is going to focus on collaboration much more than conflict.