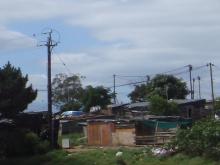 As an annual visitor to South Africa I am often asked, "will the budding democracy survive or will it go the way of other African dictatorship kleptocracies?" 
For starters of course it can be said that all democracies, even America's in an election year, are works in progress.
But beyond the obvious it is accurate to assert that the model post-apartheid constitution and bill of rights in the early 1990s established a sound foundation. The media and courts remain vibrant and even courageous, African National Congress party discipline is improving, the government is being held accountable for corruption and lack of basic service delivery, and a growing vocal parliamentary opposition is emerging. The grass roots civil society—planted and thriving from the liberation struggle—is active in movements such as Kairos Southern Africa.