just peacemaking
Editor's Note: This piece originally appeared at ABPNews/Herald HERE.
My friend Glen Stassen died today (Saturday, April 26) in Pasadena. He was 78. But because he was born on Leap Day — February 29, 1936 — Glen liked to joke that he was only 19. Until an aggressive cancer took his vitality over the last year, and finally his life, Glen as 78-going-on-19 was totally believable. It is impossible to believe that he has gone to be with Jesus.
There are only a small number of people beyond family who deeply affect the course of one's life. Glen Stassen was one such person for me, perhaps the primary person outside my family who shaped who I am and what I have become. Having him gone makes me feel like an orphan.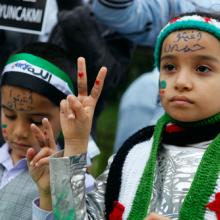 Even as the world's powers grasped for a last-minute resolution to the crisis in Syria, it remained an open question whether any amount of diplomacy could prevent the conflict from claiming at least one more victim: the classic Christian teaching known as the "just war" tradition.
The central problem is not that the just war doctrine is being dismissed or condemned, but that it is loved too much. Indeed, both sides in the debate over punishing the Syrian regime for using chemical weapons are citing just war theory, but are reaching diametrically opposed conclusions.