Joy to the World
One of the downsides of a theological education (and/or an overactive theological imagination) is an inability to sing some favorite old hymns with naive gusto. During this Christmas season in particular, we simply know too much about the biblical story (and the reality of childbirth and babies in general) to fully believe all of the touching words in some of the most popular Christmas carols.
So as a public service, I have written historically accurate versions of three of the most beloved holiday hymns. Without personally endorsing any of the theology below, I also offer some alternatives to those who don't theologically jive with the current version of "Joy to the World."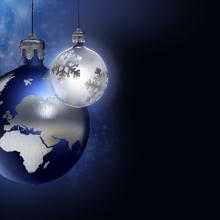 I've been really lucky this month to hear some of my co-workers' reflections on the social justice implications of their favorite Christmas carols. It's been a great opportunity to reflect back on what it is we sing and celebrate each year, the truths we profess without even knowing it.
Naturally, I wanted to get involved, as well. As I was running through the songs I love, "Joy to the World" suddenly popped up in a new light:
Joy to the World, the Lord is come!
Let Earth receive her King;
Let every heart prepare Him room,
And Heaven and nature sing,
And Heaven and nature sing,
And Heaven, and Heaven, and nature sing.