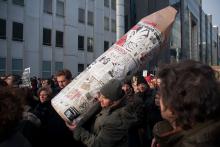 The Charlie Hebdo massacre in Paris was an act of absolute evil. The fact that people sitting down for a simple editorial meeting at their work site could be killed due to hate is disturbing beyond words. It is a tragedy for all involved – for those killed, for the family and friends of those killed inside of the Charlie Hebdo headquarters, for the officer killed on the street outside, and for those involved in the hostage situations as the perpetrators were tracked down. It is also a tragedy for Muslims, Christians, Jews, and others who often find themselves being impacted by radical fringe elements who often do not represent the basic tenants of their faith or beliefs.
It can be so hard to watch these violent terrorist events unfold around the world. And we often try to explain them way too quickly. In this instance, some immediately blamed all Muslims for the attacks. Others immediately chastised the editorial decisions of Charlie Hebdo and the cartoons this satirical magazine has published of the Prophet Mohammed. Still others protest that this is a "simple" free speech situation. They say that the cartoons posted by Charlie Hebdo were satire but harmless and that the attackers were trying to silence them.
But free speech is an interesting and complicated thing. The question is often about the limits of free speech.