John F. Kennedy
On this date 50 years ago, President John F. Kennedy was assasinated while in Dallas on a campaign tour. As the nation remembers this event, we reflect on President Kennedy's life and death.
Walter Cronkite, visibly emotional, announced the president's death on a CBS News bulletin.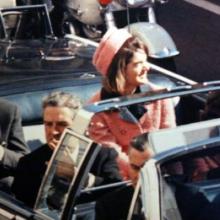 JFK's assasination provides us with lessons about the dangers of secret wars and unaccountable power.