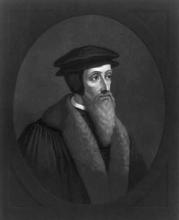 Nearly 35 years after conservatives launched a takeover of the Southern Baptist Convention, a new divide is emerging — this time over the teachings of 16th-century Reformer John Calvin — that threatens to upend the nation's largest Protestant denomination.
When Southern Baptist delegates gather for their annual meeting next week in Houston, they'll be presented with a report, "Truth, Trust, and Testimony in a Time of Tension," that focuses on the growing popularity of Calvinism among Southern Baptist pastors and seminaries.
At stake are fundamental beliefs on who can be "saved," the need for evangelism, and whether Baptists will retread familiar battlefields on the proper roles of men and women.