jesus laughed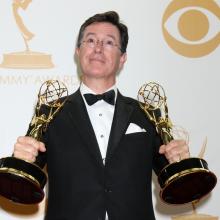 "I'm no particular exemplar of my faith," says Stephen Colbert.
"I just happen to have affection for my church."
Colbert's latest interview with Toronto-based Catholic outlet Salt and Light is bursting at the seams with wisdom — and, of course, more than a few good laughs.
The new host of the Late Show sat down with Father Thomas Corsica for a 45-minute conversation, one which centered on the Catholic comedian's reflections on faith and theology.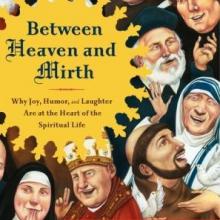 For years, I've liked to call the Rev. Jim Martin, author of the new book Between Heaven and Mirth: Why Joy, Humor and Laughter Are at the Heart of the Spiritual Life, "my favorite Jesuit."
I'm certainly not alone in my fondness for Martin and his wry spirituality.
Stephen Colbert is so enamored of the exceptionally clever cleric's wit and wisdom that he made Martin the official chaplain of the Colbert Nation. (Click HERE to see some of Father Jim's past appearances on "The Colbert Report.")
Martin, culture editor of America magazine and a prolific writer whose previous books include My Life With the Saints, A Jesuit Off-Broadway and last year's The Jesuit Guide to (Almost) Everything: A Spirituality for Real Life, has an uncommon gift for making faith — and even religion — both accessible, genuinely hip and if not fun, exactly, at least enjoyable.