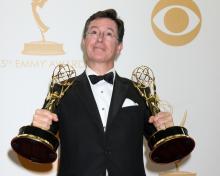 "I'm no particular exemplar of my faith," says Stephen Colbert.
"I just happen to have affection for my church."
Colbert's latest interview with Toronto-based Catholic outlet Salt and Light is bursting at the seams with wisdom — and, of course, more than a few good laughs.
The new host of the Late Show sat down with Father Thomas Corsica for a 45-minute conversation, one which centered on the Catholic comedian's reflections on faith and theology.