Jeanette Walls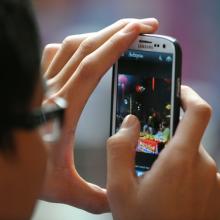 A few weeks ago, I asked folks on Twitter, and specifically, my colleague Amy Simpson, who has recently published a book on mental illness and the mission of the church:
What do you think about the way people use words like "bipolar," "crazy," and "manic" when they really mean "moody," "energetic," "quirky" and even "fun?"
It's part of a pattern I've noticed lately — and maybe you've noticed it too.
People with beautiful head shots, flawlessly designed websites, and enviable accomplishments insist that they are really just a 'mess.' Or that their families are 'crazy.' Or that their homes and lives are every bit as complicated and frustrating as everyone else's … meanwhile, their Instagram feeds show nothing but beauty; if 'chaos' is there, it's only ever of the picturesque kind.
There are no birdcages sprouting stalagmites and stalactites of bird droppings. There are no snotty-nosed, unwashed, half-dressed, hungry children who've never visited a dentist in their lives. There is food in the fridge and on the table, and it isn't even growing mold or crawling with roaches or undulating with maggots. In fact, it's from Trader Joe's and may even be organic! There is no broken glass or police officers showing up because the neighbors heard screaming. There is electricity and running water and indoor toilets.
Yeah, there's raised voices and tempers and conflicts. But that makes you human. Not crazy. Not dysfunctional. Not "a mess."