Jamie Coots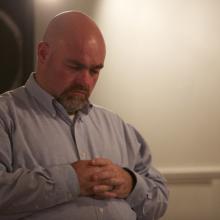 The death of Jamie Coots could be read as just another bit of evidence that the universe doesn't much care what you believe. Physics, biology, geology — all perk along with or without our assent.
Coots may have been the most famous of America's snake-handling Pentecostal preachers. He was featured last year in a reality show called Snake Salvation. He died after being bitten by a rattlesnake during the regular Saturday service.
According to a report in The Wall Street Journal, this was the ninth time he'd been bitten.
If there were such a thing as "spiritual hazard pay" for columnists, I would be filing a claim after watching the first two episodes of the new series "Snake Salvation," which debuts Tuesday, Sept. 10, on the National Geographic Channel.
God, I hate snakes. I find them utterly repellent; always have. When I was a toddler, my parents had to carry me out of the snake house at the zoo so I would stop screaming as if someone were trying to kill me.
Were it not for professional obligation — you're welcome, by the way — you would sooner have found me shaving my head with a straight razor than watching a couple of hours of television dedicated to snake handling and its (alleged) spiritual import.