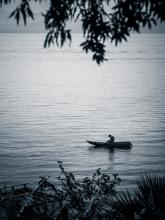 I wonder if social isolation — not extremist religion or Chechen roots — explains the two brothers who set off bombs during the Boston Marathon, killing three and wounding more than 170.
The older brother, Tamerlan Tsarnaev, was quoted as saying "I don't have a single American friend, I don't understand them." One emerging theory is that, he dealt with isolation in America by seeking his heritage in Chechnya and there, some think, found purpose in violence against his unwelcoming home.
In feeling isolated, the alleged bomber isn't alone. Isolation is the new normal in America.