islamic center of greater toledo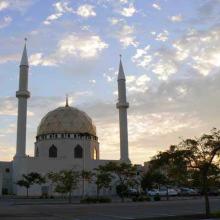 A federal judge on Thursday denied an Indiana man's request to withdraw his guilty plea in an arson blaze last September at a Toledo-area mosque.
The judge confirmed a sentencing date of April 16 for Linn, who was charged with intentionally defacing, damaging, and destroying religious property; using a fire to commit a felony; and using and carrying a firearm to commit a crime of violence. Judge Jack Zouhary of U.S. District Court in Toledo said Randolph Linn, 52, of St. Joe, Ind., was fully competent on Dec. 19 when he pleaded guilty to federal charges related to the Sept. 30 fire at the Islamic Center of Greater Toledo.
Linn, who did not testify at the hearing, had filed a motion seeking to withdraw his guilty plea, saying he had signed the plea under duress and that he "did not have the opportunity to discuss defenses, tactics, strategies, or the nature and effect of my guilty plea and sentencing."