interview with pope francis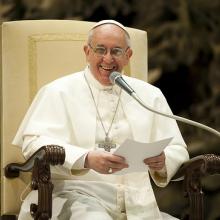 Pope Francis on Thursday rocked the Catholic Church and surprised the wider world with a free-ranging interview that charted a course away from an institution that's "obsessed" with a few sexual and moral issues and toward one that is more pastoral, less clerical and less doctrinaire.
But amid the widespread praise for his remarks – "Catholic is the new cool," tweeted National Journal's Ron Fournier – and some pointed criticism from the pontiff's right flank, there lurks a critical, unanswered question: Can Francis make his vision for the church a reality?
More than detailing a list of reforms or policy change he hopes to make — which may yet happen, after time and extensive deliberations — the pope was sketching out a pastoral vision for the church, and modeling a way for clergy to speak and relate to their flocks.
In order to replicate that model, Francis needs enough time to appoint bishops who share his views and who can in turn encourage and promote like-minded priests and seminarians. In many ways, the type of change Francis envisions will take a generation or more.