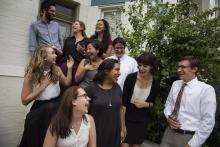 Every fall, Sojourners warmly welcomes a new intern class. For a year, a group of 10 women and men join our mission to put faith in action for social justice. Each intern works full time in one of our departments. The Sojourners Internship Program is dedicated to offering a holistic integration of life and faith through professional development, spiritual guidance, and intentional Christian community. Sojourners is also committed to providing interns with housing, meals, healthcare, local transportation, and a stipend in keeping with a simple lifestyle.
Our newest intern group, Cycle 32 (Yes, this program has been around for 32 years and is going strong!), comes from a dizzying array of backgrounds and religious traditions. From California to New Hampshire, they are brought together by their passion for faith and social justice. They bring laughter, creativity, and just the right dose of quirkiness with them wherever they go.
Read on to learn about each individual in Cycle 32 and the people they are grateful for in their own journeys to Sojourners. And a deep thanks from our entire staff for the ways your support allows this internship program to thrive year after year!