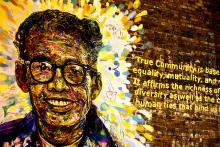 The life and legacy of Pauli Murray has been getting a lot of attention from the media lately. Articles on Salonand NPR have highlighted Murray's trailblazing legal work around the intersections of race and gender in America. Murray's scholarship and activism around 'Jane Crow' — the overlapping discrimination faced by women of color — arose from her own experience as an African-American woman in early 20th century and her arguments resonate with seemingly even greater force today.
Less talked about, but equally needed in our present time, is an examination of her work as a priest and a theologian — and, critically, how her understanding of religious and nonreligious concepts provided the means, methods, and motivation for her own activism.
Indeed, in a life filled with accomplishments, it was perhaps her final achievement that she prized most personally. In 1973, Murray became the first female African-American Episcopal priest.
A lifelong Episcopalian, Murray's faith had always fueled her work for racial and gender equality. A small example from her experience at the famous 1963 March on Washington exemplifies this commitment. In typical Murray fashion, she attended with two groups that she felt represented her commitment to civil rights. Marching first with the local American Civil Liberties Union chapter, she then veered off and found the delegation from St. Mark's-in-the-Bowery parish, her home church in New York, to watch the "oncoming multitudes" peacefully demand racial equality in an unequal country.