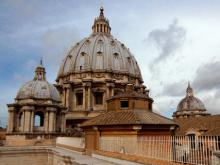 Pope Francis' promised reforms of the Vatican bureaucracy are starting to take shape, with new leaders appointed to oversee the troubled Vatican bank and plans to overhaul the Catholic Church's approach to global communications.
French businessman Jean-Baptiste de Franssu on Wednesday was named new president of the bank, formally known as the Institute for Works of Religion, replacing Ernst Von Freyberg, a German who has run the bank since February 2013.
Six new lay members, including Mary Ann Glendon, a former U.S. ambassador to the Holy See and Harvard law professor, will join the bank's board.