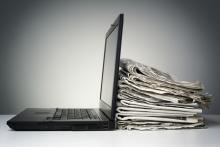 There's an old adage in journalism that if it bleeds, it leads. It sounds kind of savage and it's often that principle people quip when complaining about excessive violence in the news. 
That criticism isn't wrong. Just watch 10 minutes of nightly news, and you'll probably see nothing but murders and robberies, as if that's the only thing that happens on a daily basis.
But what I think we forget when criticizing the bleed/lead principle is the inherent value it places on human life. The way I learned it in journalism school, "if it bleeds, it leads" means that people matter. It means that the loss of human life should never be something we consider a banality and that if there's bloodshed, we, as journalists, have an obligation to report it.
In a perfect world, that would work. (Well, actually, in a perfect world, there would be no bloodshed for journalists to report, but you know what I mean.) But the problem that Gareth Higgins identifies in "A Newsfeed of Fear" (Sojourners, May 2015) is not so much the excessive coverage of suffering, but the callous coverage of it.
Instead of promoting the sanctity of life as I think it was originally intended, media coverage of crime and violence has been twisted into a formulaic script that serves only to create the must-watch, must-read news that brings in advertising dollars. And it can be hard to stomach that much disingenuousness.
Yet the solution is not a positive-news only model. There are media outlets — largely Christian ones — trying this, but I don't think this approach adequately addresses what's wrong with the mainstream media. For one thing, it does nothing to fix the problem of formulaic, disingenuous stories. People can fake happiness, too, you know. Furthermore, there are times when we actually need more bad news — like, for example, when black women disappear or when migrant farmworkers are being abused.