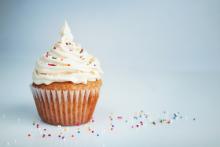 Growing up, I didn't think my mother liked me; I know she loved me, but she didn't know how to handle me. Mom was quiet and melancholy; I was brash and angry. Melancholy and anger were the mechanisms we each used to cope with the family's dysfunction. But we had little in common. Well, except for the dysfunction.

But I did know my mother loved me. She said she worried about me, she wanted me to be happy; she wanted me to know Jesus. And she prayed for me every day. Every morning as I got ready for school, I passed the den and caught a glimpse of her reading her Bible and praying.

Maybe she wasn't close to me, but I saw with whom she was close: God. Over time I saw what that friendship did to her. It made her good and kind, even in the face of disappointment and sorrow.

As an adult I tried to get closer to Mom by sharing the things that mattered to me. The first attempt didn't go so well. I gave her a copy of my MFA thesis screenplay, which was a dark comedy about a dysfunctional family. She never read
it.

"I just don't get it," she flustered.  I think she didn't understand screenplay formatting.