Humanist Society
House lawmakers late Tuesday approved an amendment to a Pentagon spending bill to prevent the appointment of nonreligious military chaplains.
The amendment, sponsored by Rep. John C. Fleming, R-La., requires that only religious organizations be permitted to endorse chaplains for the military.
"The amendment holds the military to its current standards on endorsing agencies, which must be recognized religious and faith-based organizations," said Fleming's spokesman, Doug Sachtleben.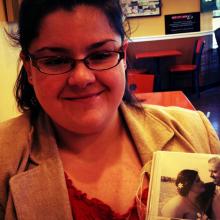 Amanda Holowaty didn't need God to get married. She just needed her husband Mike.
When the Wilmington atheist couple decided to join their lives a year ago, they knew they wanted a secular wedding celebrant, but their families weren't so sure. Her family is Methodist and his is "generally spiritual." And they worried about even telling Mike's grandmother, who is Eastern Orthodox. So they found a wedding celebrant ordained through the Humanist Society, Han Hills, who allowed their family members to read a spiritual poem.
"Nobody seemed to notice that we didn't mention God," Holowaty said. "People came up afterward and said it was one of the best weddings they'd seen."