human-made climate change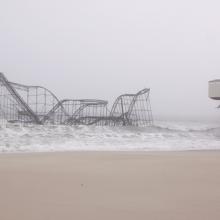 This week marks the one-year anniversary of Hurricane Sandy, the superstorm that decimated metropolitan areas of the East Coast last fall.
Damage from the storm resulted in more than 100 fatalities, with an estimated loss of $65 billion. Thousands of homes were lost, and millions were without power for days. Thousands of flights were canceled along the eastern seaboard, and multiple public transit services were suspended, including Amtrak and New York City's bus and subway system. Even the U.S. economic structure ground to a halt, with NASDAQ and the New York Stock Exchange closing to buckle down before the deluge.
One year later, we reflect on reconstruction efforts post-Sandy. We also pause to assess the role of climate change, exacerbated by human actions, in the creation and severity of the storm.