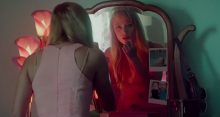 Should Christians like horror movies?
It's a question that many a Christ-following cinema junkie has had to ask themselves. It's hard not to feel a bit conflicted enjoying a zombie apocalypse or a masked maniac when peace and tolerance are core parts of your belief system. If we're going to be discerning consumers of culture, what value is there in horror?
I could pose one of a dozen different possible answers, each with their own set of arguments — for example, how the collective act of yelling in the dark at a dumb teen NOT TO GO IN THE CABIN transcends race, politics, and gender. Or how horror can help us embrace the inherently supernatural elements of faith. Or how it does the important job of reminding us that evil exists in the world, and can take on any number of forms.
But the argument that truly separates the wheat from the tares is that great horror, going all the way back to its roots in gothic literature, offers some of the best social commentary there is. Truly iconic horror films (and horror stories, for that matter) allow us to go below the surface of your basic spine-chiller, and think about everything from racism to gender politics to the afterlife.
Horror is at its best when it gives you something to think about along with your creeps. The new film It Follows, out this weekend, fits that bill quite well. It also happens to be one of the scariest movies this year.
The plot feels like classic urban legend. Teenager Jay (Maika Monroe) is dating the slightly older Hugh (Jake Weary), and decides one night to go all the way with him. Once it's over, however, Hugh informs Jay that he's cursed by a demon, a demon he's now passed on to her. The demon will follow Jay, slowly and consistently, until it catches up with her and kills her, unless she first passes it on to someone else through sexual contact. If the demon kills her, it will then return to stalk and kill Hugh. Only Jay can see the demon, and it can look like anyone, be it a stranger, friend, or beloved family member.
This premise could easily be turned into something silly and gratuitous, and were it a studio venture instead of a smaller independent film, It Follows might have been just that. But although writer-director David Robert Mitchell has made a movie in which sex plays a pivotal role, he's more interested in the consequences of it than the act itself. It Follows is packed with symbolism that represents loss of innocence, the onset of adulthood, and reminders of mortality — the ever-approaching darkness that none of us escape. Grim, yes, but also pretty impressive in a genre more commonly associated with objectification and cheap thrills.