Hispanic Values Survey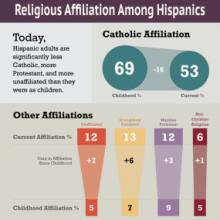 The number of Hispanic-Americans who say they adhere to no religion is growing and now rivals the number of Hispanic evangelicals, a new study has found.
The share of Hispanics living in the U.S. who say they are atheist, agnostic, or have no religious affiliation has reached 12 percent, according to the 2013 Hispanic Values Survey conducted by the Public Religion Research Institute. That is double the rate reported in 1990 by the American Religious Identification Survey.
Researchers say Hispanic "nones" are now statistically equal to the number of U.S. Hispanic evangelical Protestants — 13 percent — and warn of a religious divide in the Hispanic community that will be felt for decades to come.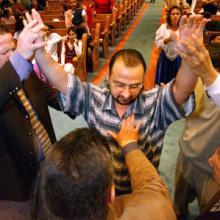 A new survey of Hispanic political and religious values finds they're overwhelmingly Democrats who hold a largely negative view of the Republican Party.
The 2013 Hispanic Values Survey of 1,563 Hispanic adults was conducted online in both English and Spanish between Aug. 23 and Sept. 3. It has a margin of error of plus or minus 3.7 percentage points.
The survey found that most Hispanics are delighted with Argentine-born Pope Francis, but they hold slightly less favorable views of the Catholic Church. While nearly 69 percent look favorably on the pope, only 54 percent see the institution in a favorable light.