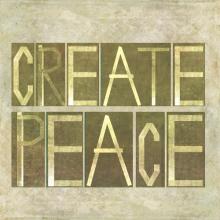 As the United States prepares to "officially" become involved in the Syrian war, Christian pacifism has reemerged as a much-discussed and relevant topic. Unfortunately, the concept has been somewhat misrepresented, undervalued, and often downright demonized within evangelical communities.
Critics often assume Christian Pacifism is some sort of radical political movement associated with marijuana-smoking hippies who are anti-government conspiracy theorists. To make matters worse, pop-culture (and much of Christian culture) has made pacifism seem, well, passive — as if pacifists are unpatriotic and un-American heretics who refuse to enlist in the military and avoid physical confrontations at all costs. They are characterized and perceived as weak, scared, and gutless.
In reality, the beliefs that form Christian pacifism are spiritual and scripturally founded around the life of Christ. And whether you agree with the theology, it's hard to passively dismiss the Biblical argument for pacifism as some sort of crazy mumbo-jumbo.