hippies
A hopeful encounter with real-life "God's Gardeners."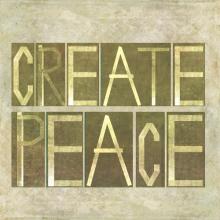 As the United States prepares to "officially" become involved in the Syrian war, Christian pacifism has reemerged as a much-discussed and relevant topic. Unfortunately, the concept has been somewhat misrepresented, undervalued, and often downright demonized within evangelical communities.
Critics often assume Christian Pacifism is some sort of radical political movement associated with marijuana-smoking hippies who are anti-government conspiracy theorists. To make matters worse, pop-culture (and much of Christian culture) has made pacifism seem, well, passive — as if pacifists are unpatriotic and un-American heretics who refuse to enlist in the military and avoid physical confrontations at all costs. They are characterized and perceived as weak, scared, and gutless.
In reality, the beliefs that form Christian pacifism are spiritual and scripturally founded around the life of Christ. And whether you agree with the theology, it's hard to passively dismiss the Biblical argument for pacifism as some sort of crazy mumbo-jumbo.
BIG SUR, Calif. — Perched atop the rugged splendor of the California coast south of Monterey, the Esalen Institute is the mother church for people who call themselves "spiritual but not religious." Over the last five decades, hundreds of thousands of seekers have come to this incubator of East-meets-West spirituality looking for new ways to bring together body, mind, psyche and soul.
But on May 30, as this iconic hot springs spa and retreat center celebrates its 50th birthday, a bitter dispute has broken out over its future. Like the many "seminarians" who come here after losing a spouse or a job, Esalen now faces its own midlife crisis.