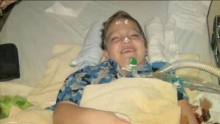 In 2010, the book, The Boy Who Came Back From Heaven, was released. At the time, I believe I gave this news about 0.3 percent of my attention, and 0.1 percent was spent lamenting terrible theology prevalent in the popular Christian book market.
I don't believe we die and are snatched up to heaven, but that is subject for another post — or better yet, go read N.T. Wright's Surprised by Hope. Another 0.1 percent of my energies went toward flinching and cringing at the way this boy was IMO being exploited for book sales. In hindsight, I should have spent more time praying for him and his mother, whose cries for truth has been silenced by the powerful machine of the publishing industry. The last 0.1 percent was energy exerted to shaking my head at the allure of sensationalism — enough to shift millions of books and a movie deal.
It came as no surprise when last week The Boy Who Came Back From Heaven retracted his story.