Gregory Weeks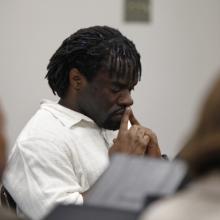 North Carolina's Racial Justice Act was just a piece of legislation until this morning, when Judge Gregory Weeks set aside a death penalty sentence that had been meted out to Marcus Robinson in 1994.
At issue this morning was not whether Robinson was guilty of first-degree murder. At issue was whether "racial bias" had prevented the "fair and reliable imposition of the death penalty in North Carolina."
Judge Weeks found that racism was indeed at work in Robinson's sentencing. There is, Weeks said, "considerable evidence of the continuing effects of racial prejudice in the application of the death penalty." Specifically, Weeks found that racism guided the selection of Robinson's jury, thus compromising Robinson's right to trial by impartial jury. In accordance with the Racial Justice Act, Robinson will now serve a term of life imprisonment without parole.