on gods side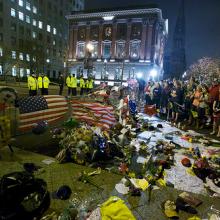 Editor's Note: Jim Wallis' latest book On God's Side: What Religion Forgets and Politics Hasn't Learned About Serving the Common Good is sparking a national conversation on what it means to come together on issues that traditionally divide the nation. Bloggers Adam Ericksen and Tripp Hudgins are having that conversation here, on the God's Politics blog. Follow along, and join the discussion in the comments section.
What if we surprised our enemies?
I mean, really surprised them. What if we surprised them with something totally unexpected? When our personal, political, and national enemies strike us, they expect us to strike back. That's been the human script since the foundations of human culture. We mimic violence blow for blow. Only each side wants to be the side who delivers the final blow.
What if we surprised our enemies and changed the script?
A revealing thing happens when you remove yourself from the daily drum of politics and become a mere observer. I did just that last year, during some of the most divisive moments of the presidential election. Sitting back and watching the deluge of insults and accusations that feeds our political system, I witnessed the worst of us as a nation. And I came to the conclusion that it's time to reframe our priorities.
When did we trade the idea of public servants for the false idols of power and privilege? When did we trade governing for campaigning? And when did we trade valuing those with the best ideas for rewarding those with the most money?
We've lost something as a nation when we can no longer look at one another as people, as Americans, and — for people of faith — as brothers and sisters. Differing opinions have become worst enemies and political parties have devolved into nothing more than petty games of blame.
During a three-month sabbatical, observing this mess we've gotten ourselves into, I prayed, meditated, read — and then I put pen to paper. The resulting book gets to the root of what I believe is the answer to our current state of unrest. It is not about right and left — or merely about partisan politics — but rather about the quality of our life together. It's about moving beyond the political ideologies that have both polarized and paralyzed us, by regaining a moral compass for both our public and personal lives — by reclaiming an ancient yet urgently timely idea: the common good.