give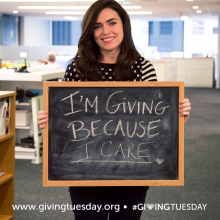 "Gray" Thursday, Black Friday, Small Business Saturday, Cyber Monday — and Giving Tuesday? For the second year in a row, nonprofits, businesses, and individuals are coming together to create a national day of giving on the Tuesday after Thanksgiving.
Why a national day of giving? Last year, New York's 92nd Street Y, with the support of the United Nations Foundation, catalyzed the idea of adding a national day of giving to kick off the holiday giving season. The goal was to drive donations of time, money, or services to charities with the same enthusiasm that shoppers have on the shopping days surrounding Thanksgiving.
A movement is underway to free people of faith from the yoke of Christmas consumerism.