generation
Reflections on the Revised Common Lectionary, Cycle A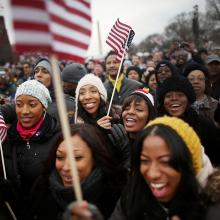 "Faith in America's Future" — that was the theme of Monday's inauguration activities.
Watching the prayers, the songs, the speeches, the crowd massed on the Washington Mall, I felt the faith. We don't have to hate each other. We can work together for a future that will be good for our country and for us as individuals. We can, as the President charged us to do, make the "values of life and liberty and the pursuit of happiness real for every American."
Inaugurations are times for setting aside differences and wildly celebrating. While Richard Blanco read his inaugural poem, even John Boehner looked teary-eyed.
The political divisions will be back in full force this week, of course. And yet we Americans are in the midst of some really big changes — changes that may make today's partisan squabbles look hopelessly antiquated in just a decade or two. Monday's events highlighted these changes.