gender identity disorder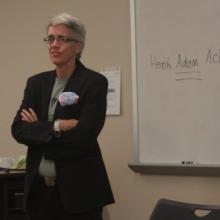 A California Christian university has asked a professor who was once its chair of theology and philosophy to leave after he came out as transgender.
Heather Clements taught theology at Azusa Pacific University for 15 years, but this past year, he began referring to himself as H. Adam Ackley. "This year has been a transition from being a mentally ill woman to being a sane, transgendered man," he said.
Ackley, who is in his third year of a five-year contract at a school that does not use the tenure system, said university policies seem to be silent about transgender issues, except that "Humans were created as gendered beings."