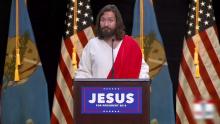 Jimmy Kimmel recently hosted Jesus on his late show. Not real Jesus, of course. (Don't worry, this isn't the apocalypse. You haven't been left behind). It's just pretend white Jesus.
Kimmel's team took real quotes from various presidential candidates and let an actor pretending to be Jesus read them as if he were running for president. And yes, they did happen to include quotes from Donald Trump.
"We want[ed] to get an idea of what [these statements] would actually sound like from the mouth of Jesus," said Kimmel.
It's quite disturbing, really.