fundraiser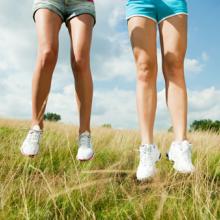 I was intrigued by a recent comment from a major political contributor when he suggested using Bayer aspirin was a viable birth control method for women. Mega-contributor Foster Friess was being interviewed by MSNBC's Andrea Mitchell when he referred to bygone days when "the gals put it between their knees, and it wasn't that costly."

He later claimed the remark was just a joke, but not before I'd spent a half hour trying it out. I wouldn't have wasted my time seeing if it was possible which, according to my unscientific test, it's not. Of course, it could have been the slacks I was wearing, which sometimes gather at the knees, or the angle in which I was sitting. But the darn thing just kept falling out.
The church calendar is tastefully rendered, thanks to a strategically-placed bag of golf clubs, banjo, laptop computer and what appears to be a large-mouth bass. The eldest pin-up dude is a retired minister who says there is a "certain elegance" to the older male form.