freethinkers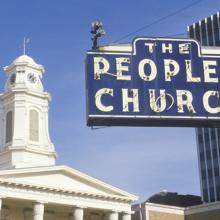 A recent survey found that 57 percent of Republicans agreed that Christianity should be established as the United States' national religion.
Not only would this violate the clear wording of the Constitution and the intention of the founders to keep religion and government separate, it also raises a difficult quandary.
Whose Christianity?
Of the estimated 1,500-plus Christian denominations in the U.S., which flavor of Christianity would emerge as the national standard?
Would it be conservative Christianity or liberal Christianity? Would it be Roman Catholic, Protestant, Orthodox, or nondenominational? Would it be church-centered Christianity or a more personal flavor, such as house communion? Would it be the 1950s-style neighborhood-church Christianity that many older churchgoers yearn for, or a contemporary megachurch?
Dozens of members of Congress are upset that the Air Force has removed the Latin word for "God" from the logo of an Air Force acquisitions office.
Led by Rep. J. Randy Forbes, co-chairman of the Congressional Prayer Caucus, 36 lawmakers Monday (Feb. 6) sent a letter to Air Force Secretary Michael Donley and Air Force Chief of Staff General Norton Schwartz objecting to the removal of "God" from the logo of the Air Force Rapid Capabilities Office (RCO).
The logo was recently removed, according to Forbes, after objections by the Military Association of Atheists and Freethinkers.