freeman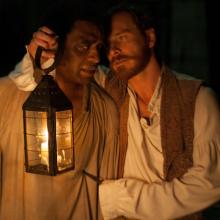 Before I saw the new film 12 Years A Slave, I knew nothing about Solomon Northrop or his astounding story of courage, forbearance, and faith.
I'd never heard of Northrop, an African-American freeman, who was born and reared in upstate New York in the early 1800s, well before the abolition of slavery in the rest of the nation. I'd not known of the historical practice of kidnapping freeborn black Americans in the North and selling them into slavery in the South.
I'd never heard about how Northrop, an accomplished violinist, was bamboozled into traveling from his farm in Hebron, N.Y., where he lived a prosperous life with his wife and three children, to Washington, D.C., for work, but was drugged, kidnapped, and sold in Louisiana. I'd never heard how he remained for a dozen years before heroically regaining his freedom in 1853 — one of a very few kidnapped freemen and freewomen ever to regain their freedom.