fraternity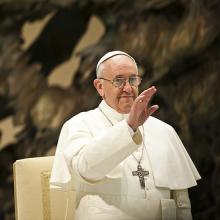 Pope Francis, in his message for the World Day of Peace on Jan. 1, stresses the concept of fraternity as the basis for a moral economy, moral society, and moral relationships among nations.
A longing for fraternity, the pope argues, lives within every human heart.
In the heart of every man and woman is the desire for a full life, including that irrepressible longing for fraternity which draws us to fellowship with others and enables us to see them not as enemies or rivals, but as brothers and sisters to be accepted and embraced. Fraternity is an essential human quality, for we are relational beings. A lively awareness of our relatedness helps us to look upon and to treat each person as a true sister or brother; without fraternity it is impossible to build a just society and a solid and lasting peace.
Too often, Pope Francis explains, this human desire for fraternity has been undermined by other human inclinations, those of selfishness, envy, and greed. He argues that those inclinations form a poor foundation for human societies and economies, and that we must build a foundation for society and the economy based on the "transcendent dimension" of humanity:
Earlier this week, the Burlington Free Press broke the story about the circulation of a provocative online survey among members of Sigma Phi Epsilon — the largest fraternity at the University of Vermont — which included the question: "If I could rape someone, who would it be?"
On the questionnaire, fraternity members were asked to respond to questions ranging from the benign ("Who's my favorite artist?") to the debauched ("Where in public would I want to have sex?") But it was "Personal Question #3" — the hypothetical rape question — that drove the university to put the fraternity on suspension.
The University of Vermont's chapter is under investigation by Sigma Phi Epsilon's national office. Women's and other human rights groups in the Burlington area circulated petitions, gathered for protests on campus, and have called on the university to terminate the fraternity once and for all.
This isn't the first time the men of University of Vermont's Sigma Phi Epsilon aka "SigEp" – a fraternity founded on the principals of "Virtue, Diligence, and Brotherly Love" – have gotten themselves in trouble. A few years ago, SigEp's national office temporarily revoked the school's charter, stating that the house's hazing rituals and other risky behaviors made the organization vulnerable to lawsuits.
It's impossible to ignore the significance of the most recent SigEp transgression in light of a very different survey released by the Centers for Disease Control and Prevention (CDC) the day after the Vermont story broke.
The CDC study found that nearly 1 in 5 American women have been raped.