forbidden fruit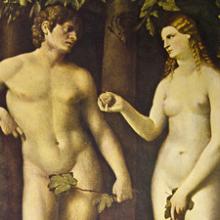 Is Eve all about sex? Or might she want something else? Our popular imagination turns Eve into a receptacle for one set of our fantasies. Our fixation on Eve's sexuality causes us to overlook the story's major themes and what they might mean for our common life together. Indeed, biblical scholar Ken Stone shows that Genesis 2-3 has a lot more to say about food than it does about sex. Even if becoming "one flesh" is about sex, and maybe it's not, there's all kinds of references in the passage about what the first humans may or may not eat.
The story tells us directly what Eve wants. She doesn't want to tempt Adam. And she doesn't want a snake curling suggestively around her body. Eve wants wisdom.
And she gains wisdom.
Let's review some of the overlooked details in this story.