football games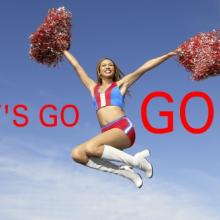 Cheerleaders at an East Texas high school are fighting their school district's orders to stop using Bible quotes on their signs at football games.
In August, cheerleaders at Kountze High School, a school with fewer than 500 students 30 miles north of Beaumont, Texas, began painting Bible verses on large paper signs football players burst through at the beginning of games.
But this week, Kountze Independent School District Superintendent Kevin Weldon called for an end to the banners after consulting with a legal adviser at the Texas Association of School Boards.
"It is not a personal opinion of mine," Weldon told KHOU, a Houston television station. "My personal convictions are that I am a Christian as well. But I'm also a state employee and Kountze ISD representative. And I was advised that such a practice would be in direct violation of United States Supreme Court decisions."
That prompted the cheerleaders and their supporters to launch a Facebook page, "Support Kountze Kids Faith," which attracted 34,000 members in its first 24 hours — more than 10 times the population of Kountze.
Parents of at least three cheerleaders have hired an attorney and are considering suing the school district.