food network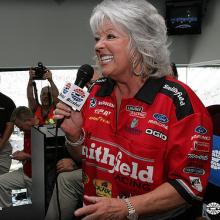 The brouhaha surrounding Paula Deen, the Food Network star accused of tolerating a racist atmosphere in the kitchen of one of her restaurants, has sent my scapegoat antennae vibrating. Folks are lining up on opposite sides of the issue, to either defend or condemn this Queen of a Southern cooking financial empire. Dropped by the Food Network, Smithfield Foods, and now Walmart, and with a Facebook page populated by supporters, Paula Deen's accusers and defenders are facing off like battalions on a battlefield. Extreme polarization like this is a symptom that scapegoating is underway, so I suggest everyone take a deep breath and back away from the deep fat fryer while I offer a few scapegoating observations.
The Verdict is Already In
Polarization is not about a search for truth. Polarization indicates that each side believes it is in possession of the truth and is running on overdrive, panting with the effort of making their accusation stick. "Paula Deen is a racist!" shout her accusers. "Why do you hate Southerners?" counter her defenders. No matter which side you are on, you are steadfastly, undeniably certain that you are in the possession of the truth and on the side of good.