Fiona Apple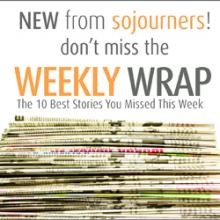 1. Shamed in Edina for Using Food Stamps
Read this moving 'apology note' from one mom in Edina, Minn., an affluent Minneapolis suburb, to the woman behind her in line at the supermarket: "I did not observe you, but my daughter was with me packing the groceries and saw it all: 'EBT: Yeah, right,' you muttered, with that look of disgust that would have shattered someone feeling just a little bit of shame over needing food stamps."
2. WATCH: The Most Beautiful, Haunting Infomercial You'll Ever See
If you haven't caught the latest, "advertisement disguised as an anti-commercial animated short," check it out. With Fiona Apple on vocals covering "Pure Imagination" from Willy Wonka, the Chipotle ad / commentary against factory farming has drawn 4 million views on YouTube already.
3. From the Mouths of Rapists: The Lyrics of Robin Thicke's 'Song of the Summer' Blurred Lines
Warning: This post contains graphic descriptions of sexual assault.
Featuring images from Project Unbreakable — an online photo essay that features images of sexual assault survivors holding signs with sentences their rapists told them — The Society Pages breaks down popular, yet somewhat lyrically disturbing, song "Blurred Lines."
4. Pope Says Church is 'Obsessed' With Gays Abortion, and Birth Control
Laurie Goodstein at the New York Times has the excerpts from Pope Francis' lengthy interview: "We have to find a new balance," the pope continued, "otherwise even the moral edifice of the church is likely to fall like a house of cards, losing the freshness and fragrance of the Gospel."
5. How Stop-and-Frisk is Creating a Generation of Young People Who Don't Trust the Police
In interviews with New Yorkers age 18-25, only 40 percent said they would feel comfortable calling the police if they needed help and only 25 percent would report someone for committing a crime, The Atlantic Cities reports.
6. INFOGRAPHIC: 16 Mass Shootings Since Newtown You Haven't Heard About
The definition of "mass shooting" is a shooting event in which four or more people other than the shooter are killed. Huffington Post collected information on 16 such incidents that have occurred across the country since December's horrific Newtwon, Conn., massacre.
7. The Language of Lament
Diana at A Deeper Story reads all of our minds as we grieve another difficult week for our country. "It is lament that carries us directly into the presence of God when we are feeling furthest away; it is lament that addresses our unanswerable questions honestly, even profoundly; it is lament that opens the door to worship."
8. Talking Sex With a Married Catholic Priest
With Pope Francis' inclusive language and prioritization of love above divisiveness, many have speculated about possible changes to the Catholic Church's stance on priestly celibacy. Christian Piatt sat down with a married Catholic priest (who joined the priesthood from the Anglican clergy) to discuss the pope, celibacy, and more.
9. The Dramatic Rise of Life Without Parole, in 3 Charts
From The Atlantic Cities: "Nationally, almost half (47.2 percent) of life-sentenced inmates are African American, though the black population of lifers reaches much higher in states such as Maryland (77.4 percent), Georgia (72.0 percent), and Mississippi (71.5 percent)."
10. WATCH: Rick Warren on Guns, God, and Son's Tragic Death
Shining a light both on mental illness and gun sales in the U.S., Rick Warren and his wife Kay sat down with CNN's Pierce Morgan to talk about their son, who took his own life in April. ""One of the hard things was forgiving the person who sold him the gun," Rick Warren said. "Because I didn't want to forgive him."