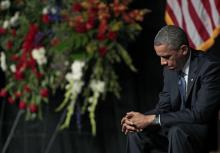 Five men who know what it means to be president of the United States shared a stage in University Park, Texas. Then the incumbent among them flew to Waco, to mourn 11 first-responders, killed in a fertilizer plant explosion in the small town of West, Texas.
All presidents try to rewrite history to burnish their brief place in it. And in his new presidential library, George W. Bush will have his turn.
Barack Obama's legacy is still a work in progress, though even sympathetic commentators are seeing him now, in his fifth year, as too slow to act, too cerebral to brawl, and too little respected by his political enemies.
In one role, however, Obama has excelled: "Mourner in Chief" — not one of his constitutional duties but oddly important.